AD-18/F — Vehicle V/UHF Dipole Antenna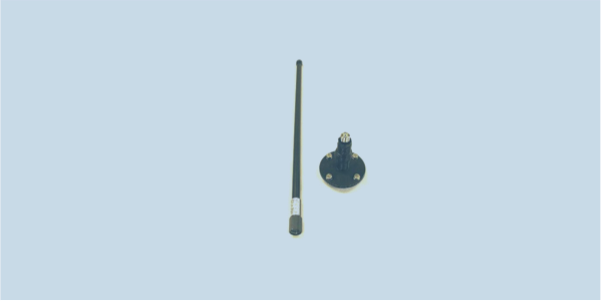 Interested in learning more about this product?
AD-18/F is an omnidirectional, vertically polarized, V/UHF wideband antenna for mobile communications and jamming in the 100 to 512 MHz frequency range.
AD-18/F is a wideband dipole mobile antenna for use in the 108 to 512 MHz frequency range with up to 100 W CW power handling. A 200W CW power handling version, AD-18/F-HP is available.
The antenna is composed of a radiator and base. The radiator is made of 28 mm diameter fiberglass whip with special radiating elements securely placed inside. Electrically the antenna is designed as center-fed dipole antenna, thus the electrical characteristics are independent from the ground or mounting point.
The antenna base has four mounting holes equally spaced on a 4.5" (114.3 mm) circle which complies with NATO standard and can include an optional AD-79/18D GPS antenna. A stainless steel biconical spring absorbs the shocks and the vibrations, in addition protects the antenna against impacts.
The antenna can be mounted on a mast using the ATP-1827/03 mast mount.
HOW TO BUY
To obtain price and delivery information about this product, click the button below.
Read On