HIGH PERFORMANCE COMPUTING
HIGH PERFORMANCE COMPUTING (HPC)
High performance computers, also known as "supercomputers" allow for near real-time signal processing, as well as the ability to scale high performance tactical communication operations rapidly.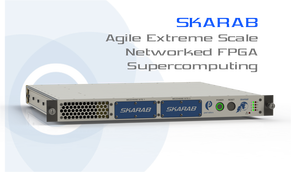 SKARAB FPGA
SKARAB is an extremely scalable, energy-efficient, network-attached FPGA supercomputing platform. Its motherboard, featuring a Xilinx Virtex 7, provides unparalleled I/O bandwidth via custom mezzanine sites. An advanced reconfiguration interface allows sub-second image loads to the FPGA, enabling compute clusters to rapidly change function with minimal down-time. Four symmetrical mezzanine sites provide flexibility for optimally balancing 40 GbE I/O, Hybrid Memory Cube and ADC configurations.
Users can take full advantage of the platform's features using a rich board support software and firmware package, allowing rapid customization to a specific application.

SKARAB is a creation of Peralex Electronics, a world-class developer of advanced signal processing solutions for defense and civilian applications such as electronic warfare and radio astronomy, located near Cape Town, South Africa.