RB10 — Wideband HF & V/UHF Bit Error Rate Tester — 120 kbps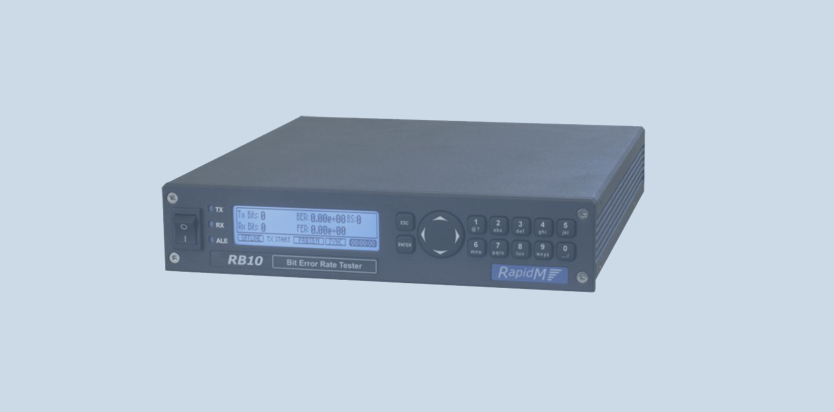 Interested in learning more about this product?
RB10 Product Overview
The RapidM RB10 Wideband Bit Error Rate Tester (BERT) is a standalone unit designed for the testing of serial and packet H/V/UHF data modem communications equipment and communications links. The RB10 BERT is used to measure the number of errors (bit or packet) in a data transmission system.
For serial testing the RB10 BERT generates a test data stream that is passed through the data transmission system. The received data stream is compared against a reference data stream to detect any errors introduced by the system under test. The RB10 BERT can detect bits in error and missed bits (also called bit slips).
For packet data and link setup testing the RB10 BERT requests the modem to establish links and send varying packets of data through the transmission system. Indications received from the modem are used to determine link probability as well as packet throughput and packet retry rate.
TEST PATTERNS
The RapidM RB10 BERT generates a pseudo-random binary sequence (PRBS) based on standard test patterns. The RB10 generates these data streams at data rates from 50 bps to 120 kbps in synchronous and 50 bps to 230k4 bps in asynchronous DTE modes. The RB10 BERT Is capable of generating and checking user defined patterns from 8 to 128 bits in length. A custom text sequence is also supported.
For serial data testing the 63, 511, and 2047 bit PRBS patterns are standard with continuous and burst transmission modes also supported.
The RB10 BERT has an intuitive graphical user interface on the front panel that displays basic error statistics and allows the user to control the operation of the BERT hardware. The RB10 BERT can also be controlled locally or remotely using the BERT GUI PC S/W which provides more detailed error statistics and test results.
D

ATA

M

ODEM

BERT: F

EATURES

& B

ENEFITS
Serial Data BERT:
Bit error rate testing for NATA STANAGS, Narrow Band and Wideband Military Standards (MIL-STDs) including Mil-Std 188-110C (WBHF) and S4691 (UHF)

DTE Interface: RS-422 or RS-232

Synchronous: 50 bps to 120 kbps

Asynchronous: 50 bps to 230.4 kbps

Clock source: Internal or External

EIA-530 Standard Compliance
Packet Data BERT:
Packet error rate testing for STANAG 4538 (HF ARCS) — LDL, HDL & HDLP

Ethernet interface: 10/100 Mbits

Protocol: RAP1/RAW over TCP/IP, EDP
Test Patterns: Standard PRBS 63, 511 & 2047 bit, custom text or User Defined PRBS
Reliable Result: Dedicated Hardware
Statistics: Recorded & Displayed
BER, bit errors, bit slips

Sync loss

Probability of Link

Packet throughput

Packet retry rate
Installation: Rack mount or standalone
SPECIAL FEATURES
Ethernet Interface: Control via RAP1
Remote Control: Via PC GUI
Time Measurement: End-to-End & Round-Trip Time (RTT)
Bit Error Rate: Insertion of bit errors
HOW TO BUY
To obtain price and delivery information about this product, click the button below.
Read On