Secure Communication Technology
Keep your radio communications protected, in any environment— quick deployment on any HF or V/UHF radio's voice channel.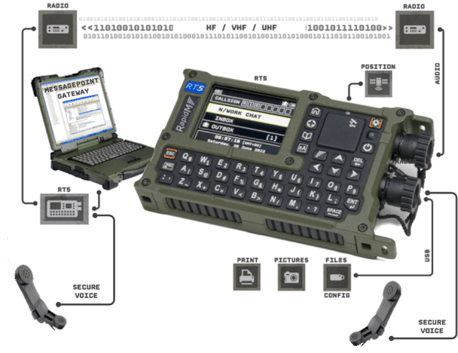 RAPTAWC
RAPTAWC technology enables operations that demand secure, beyond line-of-sight (BLOS) communications linking the frontline to command and control systems. Designed for quick deployment using any HF or V/UHF radio's voice channel to create a node of a secure satellite-independent data network, the RAPTAWC system can extend operational life of existing radios by enhancing their capability and interoperability.
A comprehensive range of communication applications including secure voice, messaging, situational awareness and navigation are included for a full stack of radio and information system networking.
RAPTAWC is a product of Rapid Mobile (RapidM), a world-class developer of digital signal processing and modem solutions for defense and civilian applications, located in Pretoria, South Africa.
Rugged modems and data terminals for security agencies, first responders, governmental, NGO and paramilitary users
Secure digital voice and data over radio networks using ultra-rugged mounted and dismounted terminals and base stations
MIL-STD and STANAG standards-based ALE controllers/modems for interoperable LF HF and V/UHF communications