AD-52 — Directional VHF Wire Antenna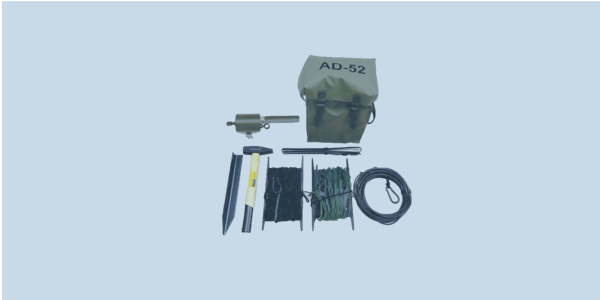 Interested in learning more about this product?
AD-52 is a field-expedient wideband wire directional antenna intended for use with handheld or manpack radio units in VHF frequency range from 30 to 88 MHz.
The AD-52 radiating element is made of wire with special capacitive loadings that together, with antenna matching transformer, very low VSWR, directional radiation pattern, and therefore relatively high gain are achieved. The antenna is mainly intended for use at tactical fixed sites because of its simple construction and easy deployment. Except for the wire radiating element, the antenna is composed of matching transformer unit, watertight enclosed in a fiberglass housing with all necessary connectors, a tape radiator counterpoise, a 15m long coaxial feeder cable made ofRG-58/U with coaxial connectors, lifting rope 25 m with weight, anchor and hammer. All together is packed in a handy linen bag, suitable for transport.
For situations that require a mast, the ST-R or STM products are well suited.
HOW TO BUY
To obtain price and delivery information about this product, click the button below.
Read On