RA5 — Secure Data Terminal with HF & V/UHF Modem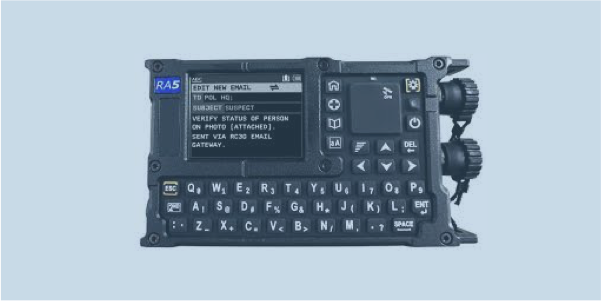 Interested in learning more about this product?
The RA5 is an ultra-rugged data terminal that works with any HF/ VHF/UHF radio to provide secure data services such as email, chat, SMS and files transfer.
The RA5 is purpose-built for vehicle applications and for situations where PC/PDA and data modem functions are required in a rugged integrated format for first responders, security agencies, government and paramilitary users. The intuitive user interface enables deployment of secure messaging applications with minimal training.
RA5 has a built-in high performance data modem that connects to virtually any HF or V/UHF transceiver via the audio interface for efficient communication in conditions when voice communication is not possible. The RA5 has a built-in GPS receiver to facilitate simple navigation functions, position tracking and emergency GPS position-based alerts.
HOW TO BUY
To obtain price and delivery information about this product, click the button below.
Read On