RC50 — Email Communications Software Suite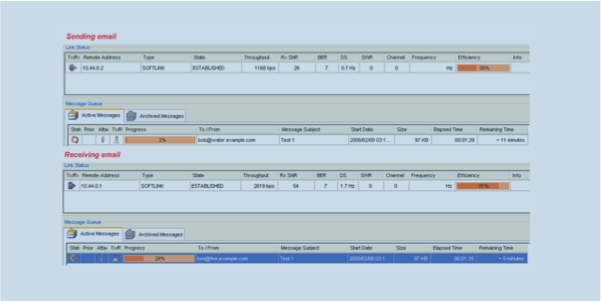 Interested in learning more about this product?
RC50 Email Communications Suite software and a RapidM modem offers the ability to send and receive e-mails reliably over HF & V/UHF radio networks.
RC50 continually maximizes data throughput by monitoring the signal quality and adjusting the data rate in accordance with the link quality (DRC).
If the radio channel is no longer viable for communication the modem's ALE function is used to select a different channel for continued communication (ALM channel change).
RC50 uses the Automatic Link Establishment (ALE) function of the modem (such as the RM2 Modems) to enable efficient multi-frequency operation. The 2G ALE setup is automatically done by the RC50 software based upon a pre-configured HF radio network configurations.
HOW TO BUY
To obtain price and delivery information about this product, click the button below.
Read On