RI10 — IP-to-Sync Controller — 120 kbps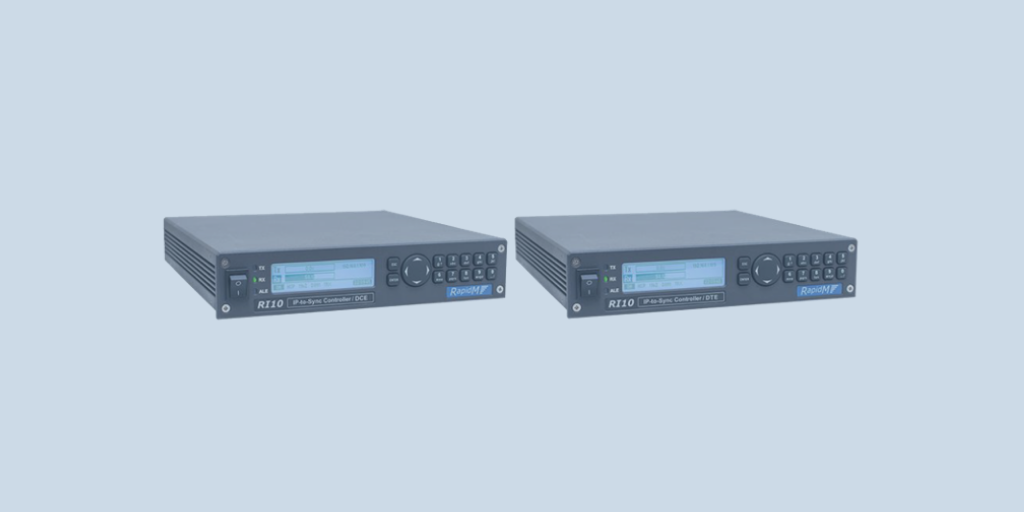 Interested in learning more about this product?
RI10 Product Overview
The RI10 IP-to-Sync Controllers are a pair of 19" rack-mountable hardware for transferring Synchronous Serial Data over Ethernet (TCP/IP). By utilizing the RI10, the transfer of encrypted bulk Data-over-IP over extended distances is possible whilst leveraging on the already installed base of high performance COMSEC devices.
The RI10 DCE variant is positioned between the COMSEC device and the Wide Area Network (WAN). On the radio equipment side the RI10 DTE variant operates as a Data Terminal Equipment (DTE) device. If the RapidM RM10 HF Wideband Modem is used, RI10 DTE variant is not required as the RM10 provides an embedded DATA LAN/WAN Port.
The RI10 DCE and DTE units can be installed as both land and ship-borne 19" rack equipment occupying only a single 1U slot. The units are typically used at NAVAL SHORE & STRATEGIC GROUND stations where the encrypted bulk data must be transferred over an IP network.
IP-to-Sync Operation
The RI10 product breaks continuous serial data stream into fixed size packets, adds the IP framing and sends the data over a packet switched Ethernet network, e.g. Defence LAN/WAN to a remote Tx or Rx Site. In the reverse direction, the IP Data received via the LAN is de-encapsulated and synchronously clocked into the data encryption equipment, e.g. KIV-7.
The RI10 provides for very low end-to-end latency. A synchronous balanced DTE port is built into the RI10 DCE variant to interface with the crypto unit. The serial interface is EIA-530 & EIA-530A compatible. The maximum synchronous serial data rate is 128 kbps. The RI10 can be used to supply the send-timing clock to the data encryption equipment. It can also be configured to accept an external send-timing clock.
Front panel indications include serial port rate, packet generation rate, packet size, clocking status and Sync or Ethernet ports activity.
Key Features:
Converts EIA-530 Serial to IP
Interfaces

DCE: Synchronous & Asynchronous Modes

EIA-530, EIA-530A
RS-232, RS-422
Internal/External Clocks

IP: TCP/IP via Ethernet

10/100/1000 Electrical
IEEE 802.3

Deployment - ship borne & shore station/split-site
Companion Products - RI10 DCE variant or RM10
Data Rate

Sync: 50 bps to 128 kbps (half duplex)
Sync: 50 bps to 64 kbps (full duplex)
Async: 50 bps to 480k8 bps (half/full duplex)

Menu-Driven control & configuration
DTE port - Synchronous/Asynchronous
Ethernet LAN interfaces - for control and IP-based data services
Factory Presets - lower integration effort
HOW TO BUY
To obtain price and delivery information about this product, click the button below.
Read On