RM10 — Wideband HF Data Modem & ALE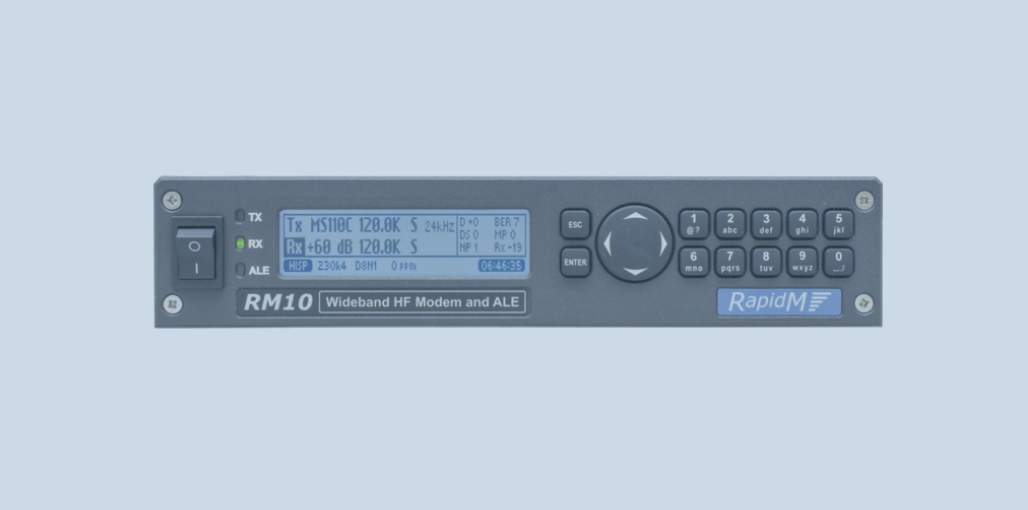 Interested in learning more about this product?
W
IDEBAND
SDM & ALE O
VERVIEW
The RM10 Wideband SDM & ALE product was developed in response to the emerging Wideband HF Data Modem and ALE standards for strategic and maritime BLOS radio communications. The RM10 addresses the need for higher throughput data communications over contiguous wideband radio channels in the HF, VHF and UHF bands.
W
IDEBAND
HF D
ATA
M
ODEM
The RM10 features a Wideband HF data modem as specified in MIL-STD-188-110C Appendix D, providing waveforms occupying bandwidths from 3 kHz to 24 kHz, and user data rates between 75 bps and 120 kbps. The RM10 also offer all the narrowband HF modem available in the RM8 product. The RM10's purpose-built hardware is aimed at operation on crowded marine platforms where space, power consumption, temperature and EMC considerations are paramount. The RM10 has a flexible and compact ½ of 1U 19-inch rack-mountable form factor.The RM10's proven interface configuration reflects the requirements posed by HF radio communication systems using bulk or IP encryption equipment.
W
IDEBAND
ALE - F
UTURE
In the future, the RM10 will offer as a software option, Wideband Automatic Link Establishment (WALE / 4G ALE), compliant with MIL-STD-188-141D Appendix G.
C
OMPANION
P
RODUCT
The companion product of the RM10 is the RC10 Wideband ARQ and IP Controller which provides Automatic Repeat reQuest (ARQ) services based on STANAG 5066 WB & STANAG 5070.
The RM8 LF and HF data modem offers a maximum data rate of 9600 bps over a standard 3 kHz SSB channel and 19200 bps over a 6 kHz channel. The RM8 will support the 24kHz bandwidth MIL-STD-188-110C modem running at up to 120,000 bps when used for short-range ground-wave links or over seawater. RM8 also supports a RapidM proprietary ≤ 128,000 bps in 24 kHz channel VHF modem.
All QAM waveforms have AUTOBAUD and adaptive equalization to mitigate HF dispersive fading or multi-path induced Doppler spread of mobile V/UHF channels. Cancellation of narrowband co-channel interference is accomplished via adaptive tone excision. In practice the RM8 will operate well with older generation HF and V/UHF transceivers due to superior in-band equalization performance and dynamic range.
HOW TO BUY
To obtain price and delivery information about this product, click the button below.
Read On