RM8 — Software Defined Modem and ALE Controller - 2G ALE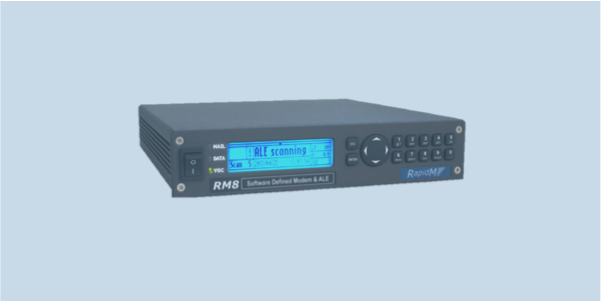 Interested in learning more about this product?
The RM8 family are versatile high-performance, long distance strategic and maritime data communications products to use with H/V/UHF transceiver equipment.
The 2G ALE Controller performs all the basic protocol functions for individual calling, one-to-many calling, sounding and scanning up to 5 channels per second.
When not otherwise committed, the 2G ALE Controller continually scans the pre-selected set of channels, listening for calls.
Link Quality Analysis (LQA) is obtained by continuously listening to sounds and calls from other stations.
MIL-STD-188-141B, App. B Linking Protection provides additional security to your HF network. The RM8 unit has a built-in GPS unit that provides the time reference required for secure linking.
The RM8 supports the standard Time Exchange protocol.
HOW TO BUY
To obtain price and delivery information about this product, click the button below.
Read On