RM8 — Software Defined Modem and ALE Controller - V/UHF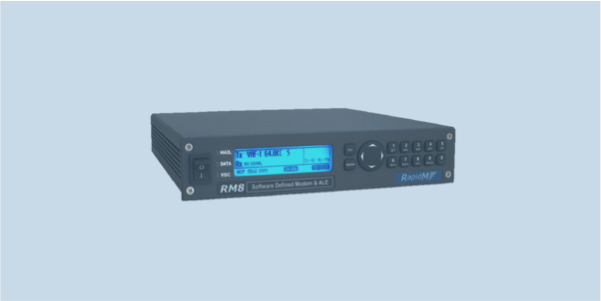 Interested in learning more about this product?
The RM8 family are versatile high-performance, long distance strategic and maritime data communications products to use with H/V/UHF transceiver equipment.
RM8 V/UHF data modem operates with V/UHF radios having an audio bandwidth exceeding 21 kHz. Data is transferred at rates of up to 96,000 bps over a standard 25 kHz channel.
Low data rates (up to 32 kbps) use Offset QPSK and 8-PSK waveforms. The low data rates are suitable for radios with a non-linear power amplifier. Very high rates use QAM and require a linear PA or can work with wideband FM or AM radios.
Adaptive equalization mitigates the effects of V/UHF channel multi-path. Convolutional encoding combined with soft-decision Viterbi decoding provides forward error correction. High performance Doppler tacking allows operation at up to 250 km/h relative speed (at 80 MHz).
HOW TO BUY
To obtain price and delivery information about this product, click the button below.
Read On