RT5 — Tactical Communications Terminal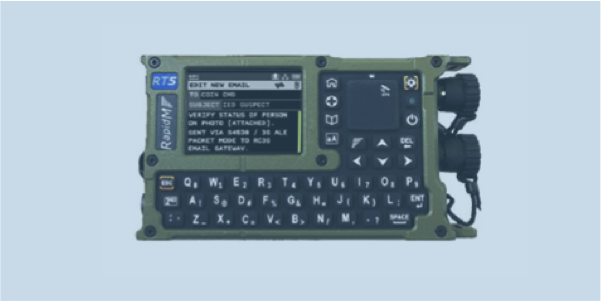 Interested in learning more about this product?
The RT5 is an ultra-rugged Tactical Terminal that works with any HF, VHF or UHF radio to provide secure voice, position and data messaging services.
RT5 incorporates RAPTAWC next-generation secure digital voice (SDV) radio speech encryption using new language-independent TWELP low-rate vocoders combined with powerful AES-256 encryption, modulated for HF/VHF/UHF.
Fielded RT5 units periodically send out position information, allowing other RT5 units and CommandPoint software users to track Blue Forces. RAPTAWC provides fast accurate messaging services such as: chat and QuickText, email, pictures and data files, situation reports, and SMS to GSM networks.
RAPTAWC software provides key management for secure key generation and distribution that ensures all over-the-air communications are end-to-end encrypted. System configuration is accomplished with asy-to-use software for rapid creation and distribution of address books, network parameters and device configurations.
HOW TO BUY
To obtain price and delivery information about this product, click the button below.
Read On