RS10 — Wideband HF & V/UHF Channel Simulator — 24 kHz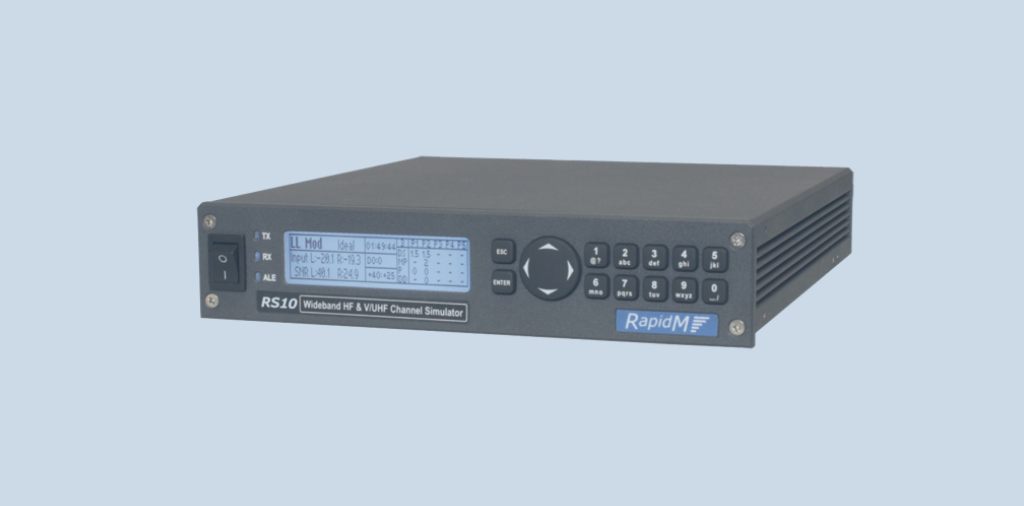 Interested in learning more about this product?
RS10 Product Overview
The RapidM RS10 standalone unit can simulate HF and V/UHF channel conditions for reproducible performance evaluation of modems and waveforms at baseband. It is suitable for the performance evaluation of MIL-STD-188-110D modem and MIL-STD-188-141C Automatic Link Establishment (ALE) solutions.
The RS10 is a baseband simulator providing an audio interface with support for bandwidths of 3, 6, 9, 12, 15, 18, 21 & 24 kHz.
The RS10 is fully controllable via the front panel - standalone unit – or remotely via a PC GUI using the RAP1/RIPC protocol.
W

IDEBAND

HF S

IMULATION

HF conditions are simulated using the Watterson-Coon Channel model with some enhancements. These include the addition of radio filters at the input and output, the ability to handle more than two paths (up to 8) and the addition of a time-varying Doppler offset.

Wideband bandwidths of 3, 6, 9, 12, 15, 18, 21 & 24 kHz can be tested.

Fixed frequency, FSK waveform, Swept Continuous Wave and Narrowband channel interference simulation is also available in the RS10.

With a maximum system delay of 25 ms, the RS10 can be used for ALE 3G testing with a zero k parameter. When testing ALE, the RS10 uses the Tx and Rx radio channel numbers, provided via the serial or Ethernet interfaces, to simulate the radio calling and scanning functions.
V/UHF S
IMULATION
V/UHF conditions are simulated to provide a full scattering parabolic Doppler spectrum. Up to 6 independent paths can be simulated. Support for bandwidths of 3, 6, 9, 12, 15, 18, 21 & 24 kHz are provided.
HF S

IMULATOR

: F

EATURES

& B

ENEFITS

:
HF Watterson-Coon Channel Model

8 Independent Paths

Asymmetric SNR:

Dual left & right channel for full ISB testing

Separate forward & reverse for ARQ testing

Preset Channel Conditions: presets for CCIR & ITU channels and MIL-STD 110D conditons

Doppler simulation: sweep and offset

Interference Simulation

Reliable Results: Dedicated hardware
V/UHF S

IMULATOR

: F

EATURES

& B

ENEFITS

:
Full scattering parabolic Doppler spectrum

Preset Propagation Terrain Models (6)

Doppler Shift: Function or RF & Speed
HOW TO BUY
To obtain price and delivery information about this product, click the button below.
Read On