AD-18/D-3512-HP — Mobile VHF/UHF Ultra Wideband Monopole Antenna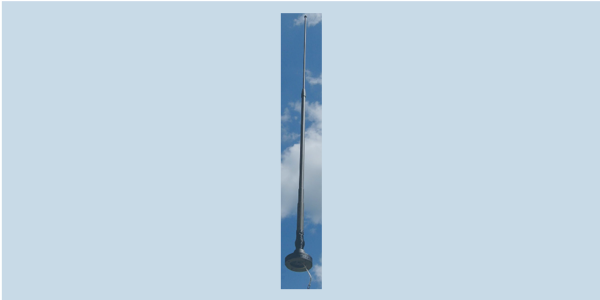 Interested in learning more about this product?
The antenna AD-18/D-3512-HP is an ultra wideband mobile VHF/UHF antenna for frequency range from 25 to 512 MHz, mainly intended for use in high RF power jamming applications.

The antenna is composed of three main parts: antenna base, lower and upper radiating element. The antenna base is made of aluminum and durable plastic materials. Inside the base is the matching circuitry. Stainless steel spring absorbs the shocks and the vibrations, in addition protects the antenna against impacts. Both radiating elements are made of composite materials enable outstanding strength and roughness even in hardest conditions of use.
The antenna base has four mounting holes equally spaced on a 4.5" (114.3 mm) circle which complies with NATO standard. Different base plate dimensions are available on request.
The antenna radiator is painted with military green (RAL-6014) two-component UV resistant paint.
Three related antennas are:
Monopole: AD-18/D-3512
Dual Feed: AD-18/D-3512-DF
200 W CW: AD-18/D-3512-HP
400 W CW: AD-18/D-3512-HP2
HOW TO BUY
To obtain price and delivery information about this product, click the button below.
Read On