AD-27/V190-3512 — Wideband V/UHF Whip Antenna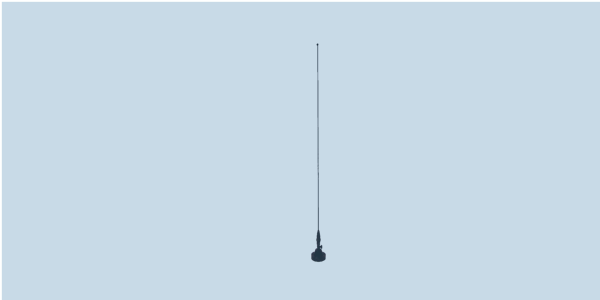 Interested in learning more about this product?
AD-27/V190-3512 is an omnidirectional monopole wideband antenna for vehicle and fixed-site operation from 25 MHz to 512 MHz with power handling of 200 W. Four versions are available with the addition of a tilting base and/or GPS module.
AD-27/V190-3512 is a low visual signature wideband monopole whip antenna intended for VHF and UHF frequency ranges from 25 to 512 MHz. The antenna is intended for use on military or civilian vehicles with 4-hole mounts. An optional tilting hinge allows the antenna to be stowed parallel to the vehicle's roof.
The base is made of aluminum and durable plastic materials, with matching circuitry inside and (optional) GPS antenna. A stainless steel spring absorbs shocks and vibrations, while protecting the antenna against impacts. Four mounting holes are equally spaced on a 4.5" (114.3 mm) circle, complying with the USA and NATO standard.
Four versions are available:
AD-27/V190-3512: VHF antenna
AD-27/V190-3512T: VHF antenna with tilting mechanism
AD-27/V190-3512G: combined VHF and internal GPS antenna
AD-27/V190-3512GT: combined VHF and internal GPS antenna with tilting mechanism
Compatible accessories for other-than-vehicle-mounting of the AD-27/V190-3512 are:
HOW TO BUY
To obtain price and delivery information about this product, click the button below.
Read On