DF-A0115 — High Sensitivity HF DF Element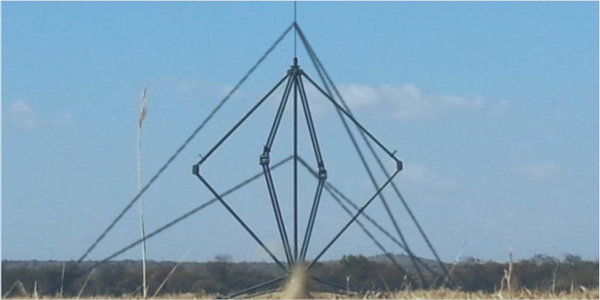 Interested in learning more about this product?
DF-A0115 antenna is a single site location HF DF array element. Polarization is selectable for linear vertical, RHCP or LHCP by injecting specific DC voltages into the connector.
Intended for DF interferometer arrays consisting of a number of DF- A0115 elements in a linear or circular layout, the antenna's large but practical physical size provides the best possible sensitivity at HF frequencies.
Each DF-A0115 includes an integrated switch with lightning and ESD protection. In CP modes, the antenna element is capable of receiving waves of LHCP or RHCP polarization, incident from the upper half sphere, with a gain peak at the zenith. In vertical polarization omnidirectional mode, the antenna operates like a monopole antenna, with a gain peak on the horizon and a null at the zenith.
Unlike similar looking products from other manufacturers, the DF-A0115 antenna utilizes patented stabilized loop technology to eliminate cross-polarization disturbance, providing enhanced reliability, accuracy and repeatability in practical use.
HOW TO BUY
To obtain price and delivery information about this product, click the button below.
Read On