---
Program Managers, CTOs, Chief Engineers and Solution Architects: Listen up!
Collaborate with Cyntony
You can boost your team, schedule and efforts by simply contacting Cyntony to get our Customer Attuned℠ Collaboration started towards delivering creative and valuable antenna and RF electronic products for your project or system.
It is very challenging and time consuming to find and sift through the myriad potential solutions out there.
Let us help -- for FREE!
This is what gets us up in the morning: to serve you; helping you and your customers succeed.
Cyntony's Process
Collaboration requires a process and competence to execute artfully. One of our secrets to success is applying a physicist's eye to problem solving. Starting with the big picture (first principles) and understanding all the constraints, we can apply decades of experience and product knowledge to guide the ideation, curation, sourcing and delivery of high-value product solutions.
This graphic elucidates our process.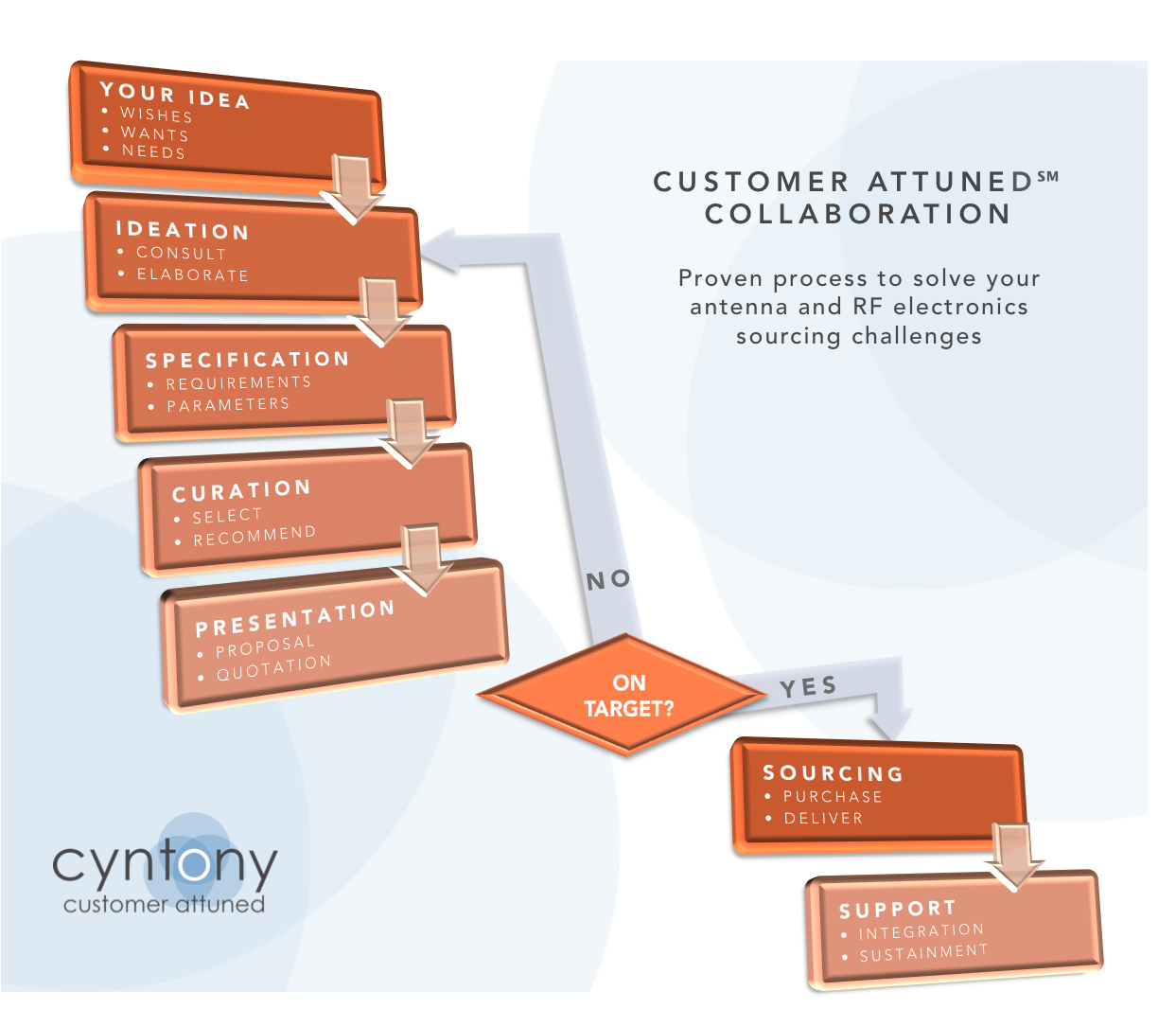 YOUR IDEA - needs and pains drive this process. We'll explore your needs, wants and wishes to develop a multi-parameter picture of the target.
IDEATION - a fancy term for conversations about possibilities. Applying creativity and working with the end in mind, we'll explore potential approaches and solutions.
SPECIFICATION

- this is engineering after all, so specs matter. Summarizing the findings of the previous steps into a paramaterized list of requirements enables engaging our manufacturing partners to offer or create product solutions.

CURATION

- using an expert's eye and vast experience, we target sources and gather datasheets, proposals and recommendations to pose to you. A lot of Cyntony's value exists here.

PRESENTATION

- via webconference, or phonecon with backup visuals, we'll present possible solutions and pricing for your consideration. We pledge to make efficient use of your time by creating intuitive and informative visuals to complement discussions. A quotation usually follows.

TARGET

- it is likely the presentation will hit your target. But situations can evolve. So in open collaboration, we'll iterate and communicate until we strike your needs or determine the fit is not right.

SOURCING

- with a resulting purchase order, and hearty thanks, of course, Cyntony efficiently handles the sourcing, administration, logistics and delivery to get your products to you on-time. We take promises seriously!

SUPPORT

- we're with you after delivery too. Our online quotation, invoicing and support system is available to you 24/7 for private, secure review and communication regarding your account and any issues that may arise. If support is needed, we'll work hard to exceed your expectations.
Many companies have joined forces with Cyntony in this way. Check out a case study of a successful Customer Attuned Collaboration that resulted in an innovative high-performance custom antenna solution.
When it's time to start your collaboration, Let's chat about your needs, wants and wishes, you'll be glad you did!