---
Does your antenna supplier meet or exceed all regulations and ISO certifications?
Federal regulations determine baseline safety and production standards for radio devices sold in the United States. However, the antenna industry is lightly regulated overall. This creates great opportunities to innovate, but can also lead to issues.
When selecting an antenna for your next application, consider the production and safety protocols the antenna supplier has in place.
Production and Safety Standards
While it is expected that all antennas will meet basic standards, suppliers often impose their own internal standards to ensure that they meet or exceed safety and production requirements on a regular basis.
ISO 9001 Certification
To ensure impartiality, fairness, and compliance, external organizations are often sought to audit and certify these companies.
Suppliers will often strive for a current ISO 9001 certification from ISO, the International Organization for Standardization. This is considered the gold standard for ensuring consistent, high-quality products and service.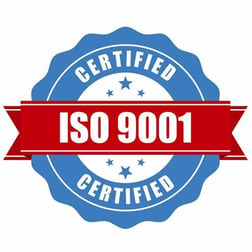 "This standard is based on a number of quality management principles including a strong customer focus, the motivation and implication of top management, the process approach and continual improvement. These principles are explained in more detail in ISO's quality management principles. Using ISO 9001 helps ensure that customers get consistent, good-quality products and services, which in turn brings many business benefits." (International Organization for Standardization)
This certification ensures that appropriate measures are being taken to continually improve products and processes, in an effort to serve customers with the safest, highest-quality products and experiences.
Regular Field Testing
In addition to meeting industry standards and voluntary certifications, suppliers also should be testing each piece of equipment prior to shipping.
Suppliers who test, trust, and support their own products are more likely to hit the mark with a high performing product -- and they're also the most likely to set things right in the event of a dissatisfied customer.
You can generally find a section of the supplier's website dedicated to standards, certifications, and quality control. For more information in this regard, here's an example from COJOT:
https://www.cojot.com/quality-control-and-certifications/
Working with the best developers and manufacturers in the industry allows you to select the equipment that meets your specifications with confidence. Learn more about what to look out for when choosing an antenna supplier in our free guide.