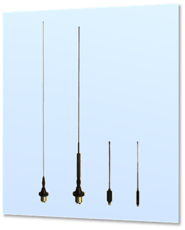 COJOT has created a family of tunable adaptive antennas for handhelds, manpacks and vehicles cover 30 - 520 MHz for enhanced communication performance. Tuning is accomplished by fast PIN-diode switching autonomously or by radio control.

30-90 MHz,-3to2dBi, 50W, Vehicle: TA3090M
30-90 MHz, -3to2dBi, 50W, Vehicle: ATA3090M
30-520 MHz, -6to5dBi, 50W, Vehicle: TA30512M
30-520 MHz, -20to0dBi, 10W, Manpack: TA30512B
30-520 MHz, -20to0dBi, 10W, Manpack: TA30512B-CE
30-520 MHz, -20to0 dBi, 5W, Handheld: TA30512H

Many versions of this innovative antenna are available, the 225-450 MHz one seen here, each delivering great gain and directivity. All use wire radials that are held in tension during operation, collapsing to a compact unit for storage and transport. Parts are permanently attached to prevent loss in the field. Power handling up to kilowatts.

2-30 MHz 2500W, V-pol: LPMA-A0010
2-30 MHz 2500W, H-pol: LPDA-A0107
20-100 MHz 1000W: LPDA-A0098
30-500 MHz 200W: LPDA-A0097, 1kW: LPDA-A0100
225-400 MHz 200W: LPDA-A0076
225-3000 MHz 200W: LPDA-A0080
Designed for general purpose long range H/V/UHF communications, monitoring and interception applications, these antennas are constructed from aluminum with an epoxy paint finish, the RLP100-500 is lightweight and durable, ensuring many years of trouble free, high performance service.

10-30 MHz 6.5 dBi 1 kW: RLP10-30
13-30 MHz 6.5 dBi 1kW: RLP13-30
100-500 MHz 6 dBi 400W: RLP100-500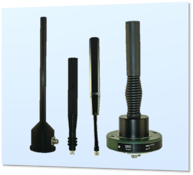 A variety of wideband omnidirectional antennas from COJOT for manpacks and vehicles cover 20 - 6000 MHz for communications, countermeasures and monitoring applications. Dozens of models are available, some requiring a groundplane, others ground plane independent. Below is a sampling of these rugged and well-performing antennas.

30-512 MHz 0 dBi peak, 10W: WB30512H1
118-512 MHz 1.0 dBi 50W: WBCX512W
480-2800 MHz 1.0 dBi 50W: WD528Q
800-2500 MHz 2.0 dBi 50W: WB922Q
Mag Mount: 0-6000 MHz 200W: MG512R


NARROWBAND HIGH GAIN CO-LINEAR ANTENNAS
These high gain omnidirectional antennas use co-linear design with integrated balun, making them groundplane independent and suitable for use on many platforms, such as manpacks and mobile electronics. The radiator is in the top half of the radome to mitigate HERP. Designed for use in extreme operational environments.

850-960 MHz & 1.7 - 2.5 GHz 70W: OMNI-A0140
925-960 & 1805 - 1990 MHz 50W: OMNI-A0075
1.15-1.4 GHz Co-linear 20W: OMNI-A0109
1.6-1.9 GHz Co-linear 20 W: OMNI-0135
2-2.5 GHz S-band 50W: OMNI-A0089
2-2.5 GHz Co-linear 20W: OMNI-A0142
2.2-2.4 GHz Co-linear 50W: OMNI-A0132
2.3-2.7 GHz Co-linear 20W: OMNI-A0108
3-3.5 GHz Co-linear 20W: OMNI-A0136
4.5-5 GHz Co-linear 20W: OMNI-A0137
5.5-6 GHz Co-linear 20W: OMNI-A0138
MAN-PORTABLE HF VHF ANTENNAS AND MASTS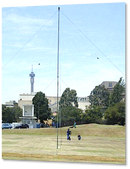 These wire antennas enable high power communications for NVIS, short, directional and long range in the HF band. A mast kit is required to support the wire radiators.

1.5-30 MHz Directional 1kW: TW-A0002
10 kW: TW-A0003
Tactical telescoping mast up to 12m: RTM series
2-30 MHz Tactical Inverted V 400W: RTD2530
2.5-30 MHz Lightweight Inverted- V 125W: TAC-HF
Lightweight tactical mast: RSM-6
30-90 MHz Wire discone 100W: RDA30-90
TACTICAL OMNI VEHICLE ANTENNAS: HF VHF UHF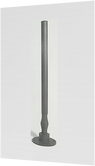 These communications antennas for vehicles cover typical bands used by military COMMs systems. They are omnidirectional and rugged for use in harsh environments. Similar vehicle antennas for commercial COMMs bands are listed in a similar position of the Counter-RCIED page of this site.

1.6-30 MHz Whip 400W: HF5M, spring base: RHF-6
30-88 MHz Whip with ATU 50W: MONO-A0033
30-90 MHz Short Whip 50: REF30-90
30-108 MHz Center-fed Dipole 50W: VCF30-108
30-88 & 225-512 MHz 100W & 50W: OMNI-A0239
108-175 MHz Center-fed Dipole 100W: VCF108-175
108-520 MHz Center-fed Dipole 100W: VCF108-520
115-175 MHz Center-fed Dipole 50W: VCF115-175
115-512 MHz Center-fed Dipole 50W: VCF115-512
136-174 Center-fed Dipole 50W: VCF136-174
136-174 High power VHF Loop 250W: MONO-A0055
225-420 MHz Center-fed Dipole 50W: VCF225-420
225-400 MHz Dipole 50W: OMNI-A0097
380-430 MHz Center-fed Dipole for Tetra 50W: VCF380-430
400-470 MHz Center-fed Dipole 50W: VCF400-470
Bases for VCF antennas: UBS-4, UBS-6; UBS-4G, UBS-6G (G with GPS antenna)
HIGH GAIN BROADBAND OMNIDIRECTIONAL ANTENNA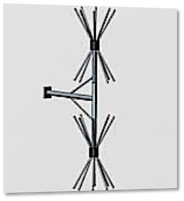 These high gain omnidirectional antenna are ideal for civil and military air traffic control bands, and tactical data links, achieving twice the range of a standard dipole design. Can be fixed site or mast mounted, and the radials are removable for storage and transport.

108-420 MHz 100-400W: RDB108-420
500-1500 MHz 200W: OMNI-A0091
HIGH POWER HIGH GAIN DIRECTIONAL GRID ANTENNAS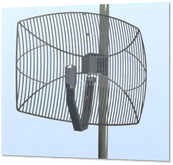 These high gain reflector antennas have highly directive patterns that allow for point-to-point communication links at long range.

800-3000 MHz 10-21 dBi 100W: GRID-A0004
1.35-2.7 GHz 21-25 dBi 50W: GRID-A0006
2.4-2.5 GHz 20-21 dBi 100W: GRID-A0005